INTEGRATED HEALTH
THE CONTENT OF THIS PAGE IS OPEN ONLY TO IFSO MEMBERS. TO WATCH THE FULL VIDEOS PLEASE LOG IN IN THE MEMBERS' AREA
IF YOU FORGOT YOUR CREDENTIALS TO LOG IN PLEASE CONTACT info@ifso.com
Close
OPEN POSITIONS AT IFSO INTEGRATED HEALTH
Dear IFSO IH Members,
We have exciting news to share!
We now have a dedicated Integrated Health Section with its own Executive Board and three Committees: Educational and Training, Professional Guidelines and Research and Innovation.
IFSO IH will also increase its seats on the IFSO Executive Board from two to three.
There is a transition period with some of the existing IH Committee members taking up positions on the IFSO IH Executive Board, so that expertise and experience can be retained. There are vacancies, and these and future vacancies, as they arise, will be advertised to the IFSO IH membership. The recruitment process will be open and transparent.
The positions which have been already filled are:
IFSO IH President: Mary O'Kane (until 1st September 2023)
IFSO IH President Elect: Silvia Leite Faria
APC Chapter Representative: Andrea Schroeder
LAC Chapter Representative: Blanca Rios
MENAC Chapter Representative: Jumana Bashiti
NAC Chapter Representative: Tracy Martinez
Education and Training Committee Chair: Cristina Aquino
Professional Guidelines Committee Chair: Yitka Graham
Research and Innovation Committee Chair: Dale Bond
The vacant positions are:
Secretary (2+2+2 years = max 6 years)
IFSO European Chapter Representative (2+1 years = max 3 years)
Vice-Chair and/or Member of the Education and Training Committee (2+1 years = max 3 years)
Vice-Chair and/or Member of Professional Guidelines Committee (2+1 years = max 3 years)
Vice-Chair and/or Member Research and Innovation Committee (2+1 years = max 3 years)
We are seeking applications for these vacant positions from all Integrated Health professions and chapters.
Applicants should:
Be an IFSO member in good standing
Have been active in Integrated Health within their national society or at international level
Have been actively engaged in the practice and/or science of Metabolic and Bariatric Surgery
Secretary and Chapter Representatives should be able to attend and actively participate in IFSO IH Executive Board meetings
Vice-Chairs and members of the Committees should be able to attend and actively participate in committee meetings and activities
Take on an area of responsibility agreed with the officers and report back at meetings
Have demonstrated a history of leadership and effective service (for Secretary, Committees Vice-Chairs and IFSO European Chapter representative)
For the position of members of the committees, we welcome applications from both junior and senior IH professionals.
We invite you to apply by sending your candidature to info@ifso.com along with your CV and one letter of recommendation from an IFSO member (download relevant form below) by April 10th, 2023.
If you need any further information, please feel free to contact us anytime.

LETTER OF RECOMMENDATION COMMITEES MEMBER

LETTER OF RECOMMENDATION SECRETARY, COMMITTEES VICE-CHAIRS AND CHAPTER REPRESENTATIVES
GOOD LUCK!
---
Mission Statement
IFSO Integrated Health Members are dedicated to continually strive for clinical excellence in the care they provide to bariatric and metabolic surgical patients. This dedication is evident by the knowledge we seek to provide optimal patient care in our individual countries, as well as the collaboration and knowledge shared among our international colleagues.
The Integrated Health (IH) section of IFSO consists of a diverse group of professionals who provide a continuum of care for the metabolic and bariatric patient.
Who are Integrated Health Professionals?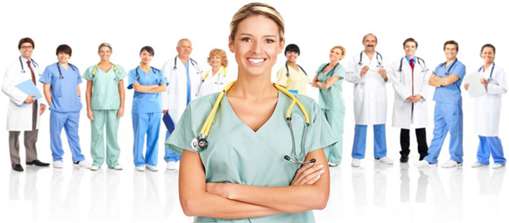 An IFSO Integrated Health professional is a member of the health care team that supports individuals who suffer from morbid obesity as they progress through the surgical pathway of Bariatric and Metabolic Surgery. The Integrated Health Care professional should be dedicated to possess specialized expertise in their discipline to provide safe evidence based care, education and long term support to maximize patients short and long-term outcomes.
Members should be committed to working collaboratively and integrated for optimal care of the Bariatric and Metabolic surgical patient.
Integrated Health professionals prepare, counsel and support in order to optimize the benefits of metabolic surgery. The Integrated Health professional is there to identify, intervene and teach positive behavioral, emotional and provide interventions that affect long-term outcomes.
IFSO Integrated Health members consist of all supporting positions in metabolic and bariatric surgery, from nurses to therapists to data entry personnel. Together, Integrated Health professionals help in the holistic and long-term follow up care of the patient. Here are just a few of the more common Integrated Health professions:
Coordinators
Advance Practice Nurses
Nurses
Dieticians
Exercise Physiologists
Exercise Coordinator
Psychiatrists
Psychologists
Endocrinologists
Internists
Obesity Medicine Specialists
Pharmacologists
Physical Therapists
Physician Assistants
Behavioral Health Clinicians
Researchers
Clinical Reviewers
Registered Dietitians
Become an IFSO Integrated Health Member
IFSO welcomes all Integrated Health Professionals in the field of Metabolic and Bariatric Surgery.
Why Join IFSO?
Subscription to the digital and print versions of Obesity Surgery at a discounted price.
Discounted registration to IFSO World Congress, IFSO Chapters' Meetings and IFSO endorsed meetings.
Your practice and contact information in our membership registry, accessible by patients. Access to members-only documents and online resources in the Members' Area of www.ifso.com
Email alerts about new published research findings, political events and Federation highlights.
Opportunities to join IFSO committees that impact research, education, patient access, innovation, communication and public service in the field of metabolic and bariatric surgery.
Application Process
If you live in a country where there is a national society for bariatric surgery you can join IFSO through your National Society. To check if your Country has a national society that is member of IFSO please click here: http://www.ifso.com/ifso-member-societies
If you live in a country where there is no national society for bariatric surgery you can join IFSO as individual member by clicking on the following link: www.ifso.com/join-ifso
IFSO Integrated Health Committee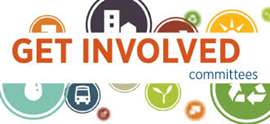 The appointment is for a term
Responsibilities:
Prepares for and participates in the discussions and deliberations of the committee, attending all face-to-face and conference call meetings.
Takes a proactive approach to committee work. Working on committee projects throughout the year as directed by the committee chair.
Responds within 72 hours to committee chair messages, whenever possible.
Minimum time requirements:
One face-to-face meeting at IFSO World Congress and conference-calls if needed
Meet Your Integrated Health IFSO Committee

Mary O'Kane, RD: President (UK)
Registered dietitian

Silvia Leite Faria: President elect (Brazil)
Registered dietitian

Jumana Bashiti (JO)
Registered dietitian

Dale Bond (USA)
Director of Research Integration, Hartford Hospital/HealthCare

Tracy Martinez (USA)
Registered Nurse

Blanca Rios – Past Chair (Mexico)
Psychologist

Nate Sann, MSN CRNP FNP-BC (USA)
Nurse

Andrea Schroeder (New Zealand)
Registered Nurse

Cristina Aquino (BR)
Exercise Physiologist and Kinesiologist

Yitka Graham (UK)
Clinical Academic Health Researcher
Alcohol and Your Health After Bariatric (Weight Loss) Surgery
This patient education tool was developed by the Metabolic Surgery and Substance Addiction Group (MeSSAGe), a consortium of clinicians and researchers specializing in post-operative addiction issues after metabolic/bariatric surgery (MBS). This resource is intended to help healthcare providers (particularly those within the MBS field) to educate patients about the risks of problems with alcohol and opioid medications after MBS. This tool can be used with patients seeking MBS, to aid decision-making, treatment-planning and risk prevention; it can also be used with patients who have already undergone MBS, to increase awareness of risks and to aid in prevention and in timely identification and intervention for those who have encountered such issues.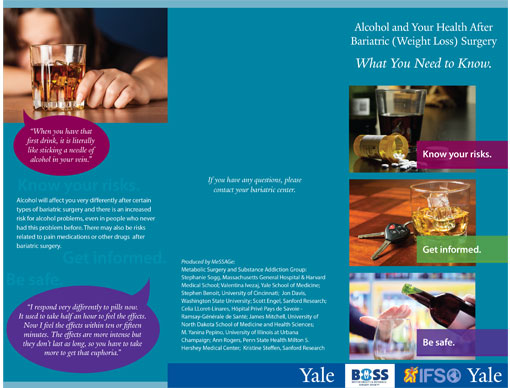 Click here to download the pamphlet