The Adjustable Gastric Band – Patient Information
The Adjustable Gastric Band is an inflatable band that is placed around the upper portion of the stomach, creating a small stomach pouch above the band. The band is made of soft silicone and has an inflatable balloon on its inner margin. This balloon is connected with a tube to an access port.
The band helps patients reduce weight by inducing a feeling of satiety (less hunger) and helps the patients to decrease the amount of calories that are consumed.
Since the insertion of the adjustable gastric band does not involve any cutting, stapling or removal of any part of the stomach or intestines, the function of the digestive system remains intact. All ingested food will still be absorbed by the body the same way that it was before the operation. Weight loss is achieved by reducing the appetite and helping induce early feeling of satiety after eating smaller amounts of food than before the surgery. It is most important to avoid foods of high caloric content, such as ice cream, sweets or liquid calories.
The Procedure
Insertion of the adjustable gastric band is usually done via laparoscopic approach. Usually five small incisions are made in the abdomen to introduce a laparoscope and instruments and the adjustable gastric band is positioned at the upper end of the stomach.
Once the band is placed in position, the connecting tube and access port are inserted and secured to the upper abdominal wall.
The size of the stomach opening can be adjusted by filling the band with sterile saline, which is injected through a port placed under the skin. Reducing the size of the opening is done gradually over time with repeated adjustments or "fills."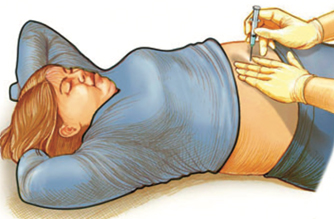 Patient having a band adjustment
How much weight can you expect to lose?
The weight will be lost gradually and should commence immediately after surgery. The amount of weight loss will depend on follow-up visits and band adjustments (injecting saline fluid in the band) to provide a feeling of satiety. More importantly, the amount of weight loss in the long term will depend on the patient, i.e. on how carefully the patient follows the recommendations regarding eating habits, diet and exercise. Initial rate of weight loss is 0.5 - 1.0 kg per week. On average it is expected that 40-50% excess weight will be lost long term.
Co-morbidity resolution
Weight-related co-morbidities such as diabetes, obstructive sleep apnea and hypertension resolve along with successful weight loss.
Advantages
Reduces appetite so that it is easier to eat less.
Induces excess weight loss of approximately 40 – 50 percent of the excess weight
No cutting of the stomach or rerouting of the intestines
Short hospital stay, usually less than 24 hours
Is reversible and adjustable
Very low rate of early surgical complications
Low risk for vitamin/mineral deficiencies
Considerations and Disadvantages
Slower weight loss than other surgical procedures
Requires a foreign device to remain in the body
Can result in possible band slippage or band erosion into the stomach in a small percentage of patients
Can have mechanical problems with the band, tube or port in a small percentage of patients
Can result in dilation of the esophagus
Requires strict adherence to good eating habits, diet and follow-up visits for band adjustments
May require reoperation for device malfunction, failure, displacement, infection or need for replacement